"LIVE FEARLESS"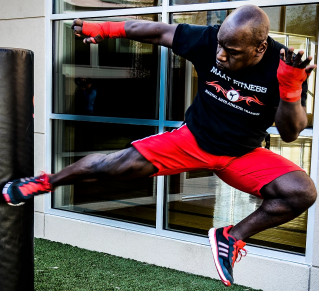 Troy Logan, founder, and owner of Strike First Fitness, Inc., has been a Self-Defense Instructor and Educator for nearly 30 years. During his childhood years, Troy's family moved often and as a result, he attended multiple schools where being the new kid often led to fights and being bullied. Those experiences created an innate sense of wanting to protect others and shield them from the "Bully" in their lives.
Troy's journey eventually led him to become a Self-Defense Instructor with a passion for teaching others. Troy is a 1st degree Black Belt in Krav Maga through Global Martial Arts, and a Gold Certified Krav Maga Instructor through Krav Maga Alliance. Troy is also a Certified Master Instructor of Muay Thai Kickboxing and holds a 1st degree Black Belt in Tae Kwon Do. He has a teacher's proficiency in numerous other disciplines including Western Boxing, Tang Soo Do, Karate, and Jujitsu. His professional expertise also includes being a certified NRA Pistol Instructor.
Troy has developed and teaches many extremely needed and customized Self-Defense courses, such as:
"Me Too": Training for anyone affected by sexual crimes
"Bully Proof": Training for all ages affected by bullying
"College Safety": College campus safety training
"Senior Safety": Training for the elderly.
Troy provides self-defense training and seminars for companies and colleges, such as Harry Norman Realty, Keller Williams Realty, Delta Airlines, State Farm Insurance, and Georgia Tech, as well as churches and many other types of organizations. Troy also offers a "Train the Trainer" program to develop and educate those who want to become Self -Defense instructors.
​Troy is a professional Speaker and Author, and has recently released his new book entitled, "Self Defense For Anyone, Anywhere, and Anytime - Live Fearless" which gives real-life strategies to help anyone and everyone learn how to effectively defend themselves, be safe, and live fearless in a potentially dangerous world.
Troy is married to his beautiful wife Nicole and together they have two sons, Caleb and Joshua, and live in Conyers, Georgia (in Metro Atlanta area).